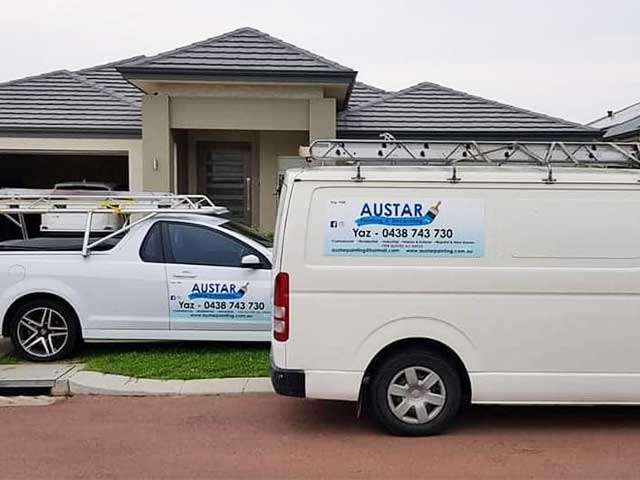 About Austar Painting & Decorating
At Austar Painting & Decorating, we have one core mission: to provide our customers with unmatched commercial and residential painting solutions in Melbourne that excel far beyond their expectations. We work with our customers turning their concepts and dreams into a finished product. Paying attention to detail is incredibly important to us. Quality handiwork and client support from the start to the end of all jobs is a necessary part of each project.
100% Client Satisfaction Guaranteed
More than 15 Years of Experience in the Painting Industry
Hundreds of Satisfied Clients
Two Year Guarantee of Quality
Fully Insured
Professional
Austar's trades have all the skills necessary to complete the painting project from start to finish – from painting to wallpaper and plastering. The entire project will be finished by Austar Painting & Decorating, so you can be safe in the knowledge that you have one point of contact throughout. Our competitive prices compare to quality of the project will leave you as satisfied for many years. All our team have one thing in common, an appreciation & understanding of your projects details.
Reliable
Austar's goal is to add value to your property by providing superior customer satisfaction with competitive prices. We work closely with you to understand your project and provide you with a realistic & achievable outline of how we can deliver you, your project. Austar Painting & Decorating has the best prices for all your painting projects & general maintenance for your home or office.
Competitive
Austar Painting & Decorating is open, honest and clear when we build your estimate so you have complete clarity before we start work, and throughout your project. The promise is simple, a fixed price agreed up front based on your scope of work. We'll be there on the day agreed and will finish the project in the time scope agreed. We believe in quality and the quality doesn't mean cover ups there for if there is issues that has to be dealt, we will inform you.